Secrets of Coaching Success: Spiros Karachalios (Part 2)
The fifth episode of the series is the first one to feature a beach volleyball coach, Spiros Karachalios, the Greek specialist, who mentored his teams to three European Championship titles and numerous prestigious international podiums, led Poland's Bartosz Losiak & Piotr Kantor to the top of the FIVB World Ranking in 2018, and recently steered the Swiss women's national team to a historic trophy at the inaugural CEV BeachVolley Nations Cup. Here is the full interview he gave for cev.eu.
What prompted you to become a beach volleyball coach?
"I love beach volleyball, but I can't say that it was a conscious or planned decision to become a beach volleyball coach. I would say that it was more a sequence of coincidences, together with the passion that I have for the sport, that shaped my way and drove me there. I started playing volleyball at the age of 11 in a local club in my neighborhood, Ambelokipi, located in the center of Athens. The funny thing is that as juniors we were only playing outdoors, because the club didn't have an indoor facility. My teammates and I used to play 2×2 tournaments on that outdoor volleyball court all day long. This was my first contact with something that was somewhat like beach volleyball and I really enjoyed it much more than volleyball. Soon I also started competing in national youth and junior categories in beach volleyball and I was quite successful. I kept playing both versions also as a senior and I could make a living doing what I loved, while studying economics.
"In 1998, Efi Sfyri & Vasso Karadassiou decided to quit indoor volleyball, focus only on beach volleyball and make a run for the 2000 Sydney Olympics. At that time, it was already decided that the 2004 Olympic Games would be held in Athens, so the Greek volleyball federation started to invest in beach volleyball. They hired a beach volleyball coach from USA, Jeff Alzina, to train the girls and develop one of the first professional federation beach volleyball programs in Europe. I was just there, trying to get every opportunity I could to play beach volleyball, and one day Efi and Vasso just asked me if I could join their trainings on a more regular basis so that I could help the new coach as an assistant and as a training partner. Sure, why not… and that was the turning point and my first contact with coaching. Of course, at that time I still was a passionate player and I was seeing this part-time coaching as an opportunity to learn things and develop myself as a player. At the same time, I was also really enjoying this new role and kept doing it also with the next coach, Alemao from Brazil. For me coaching is much more complex than playing, which at the end makes it really, really interesting.
"Finally, the girls qualified for the Olympics in Sydney and I was so excited… I remember I would stay awake at crazy times, because of the time difference, just to watch their games live, and Ι already had a coaching perspective. After the Olympics in Sydney, it was very clear to me that I wanted somehow to participate in the next Olympics in Athens. For various reasons I didn't see a chance as a player at that moment, and I guess that subconsciously I made a choice to invest more and more in coaching. As a person, I am ambitious and I like to keep developing. Looking back now, I believe that, in my case, there were much more opportunities to develop as a coach and this definitely played a role to make the transition from playing to coaching at a really young age."
In many cases, a coach is an employee of the duo he/she is coaching. Please explain the psychology of such a relationship with the players.
"Perhaps I am not the best person to explain the psychology of such a relationship, because I see the coaching job in a very specific way. In my opinion, it doesn't matter so much who your employer is. Anyway, as a coach, you should be able to inspire, develop the players and the team in order to meet some specific goals. In case the interaction between the players and the coach stops being productive, for me it does not matter who the employer is – it has to end. Players, a federation or a president of a club can be your employer, but you need to be yourself and just play your coaching role in the best possible way. In this sense, the psychological part of the job and the interaction with the players remain pretty similar for me, no matter who the employer is. I strongly believe that, in order to be a successful coach, you cannot be afraid of losing your job. On the contrary, you MUST be willing to risk or change your job, when things are not working in the right way."
When coaching a beach pair, do you focus more on improving the individual skills of each player or on improving the interaction between the two?
"It depends on the period and the phase of the specific team, but you definitely have to focus in both directions. In beach volleyball, we are much more limited in terms of solutions, when things are not working. For example, you don't have substitutions during the match, you can't just select or buy new players for the next season, you can't coach during the match… You just have two players and, when you want to improve, you need to keep working on improving the individual skills. However, the interaction between them is also very important, especially with the absence of the coach during the official games. As a coach, you should usually find the right balance between the tasks that you need to work.
"As I see it, there is no magic recipe. Every athlete and every team is unique! My experiences showed me that, in our sport, it is essential to keep growing as a team. Otherwise, there are always other teams that catch up and eventually pass you. You can't just stay the same, even in moments when you are already good and successful. At least you usually have more time for improving the individual skills of the players than you do with professional indoor volleyball teams. Luckily, there is also such a wide range of skills which the players need to master that there is always something to work on and improve. In the end, improving the individual skills and building some tools for anticipating the many different situations that our game offers is also helpful for improving the interaction between the players."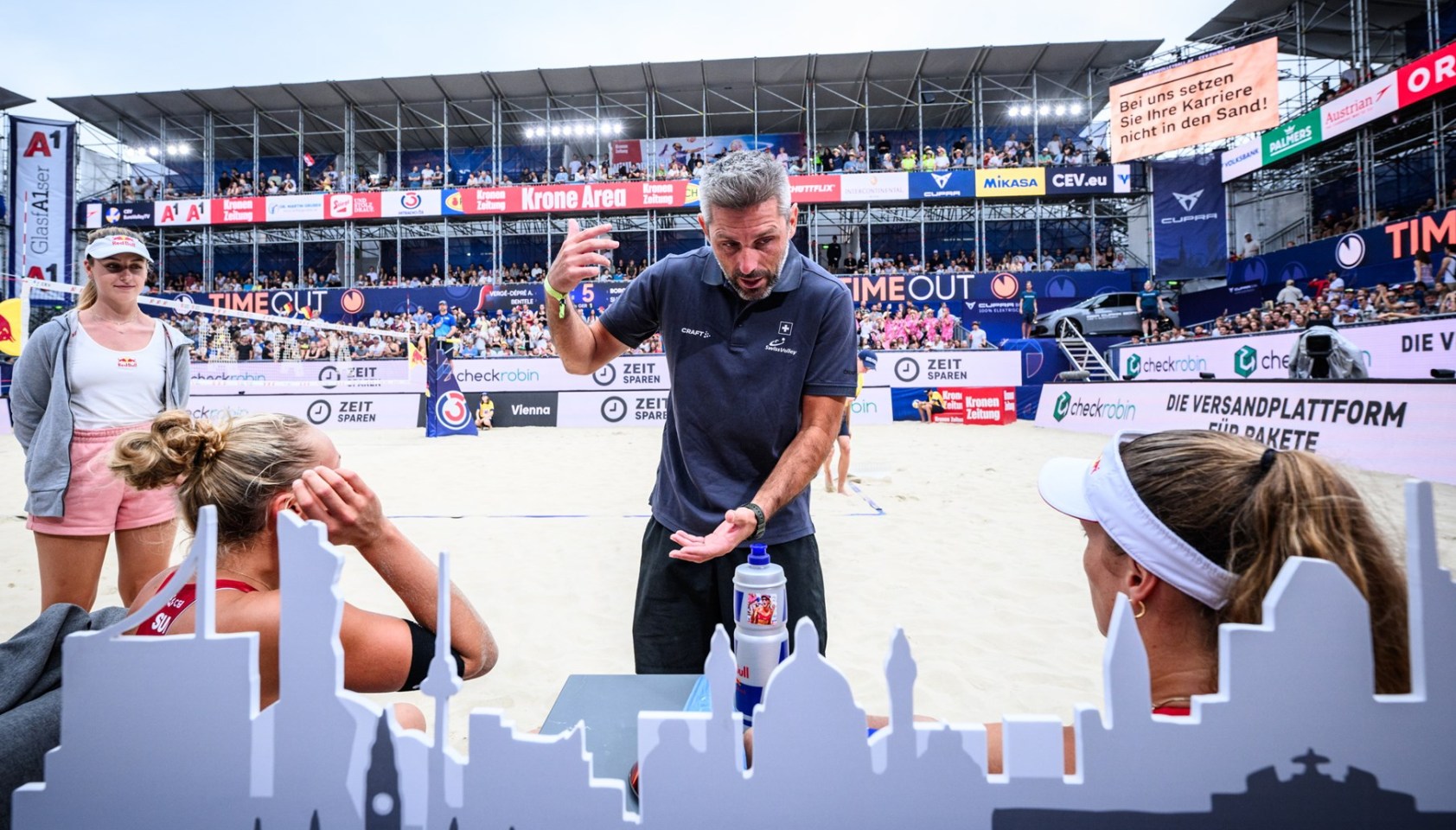 Spiros Karachalios during a CEV Nations Cup match
Unlike indoor volleyball, coaching during beach volleyball matches is generally not allowed. What is the reasoning behind this rule and would you change it?
"I don't think that there is a specific reason; it just comes from the roots of the game. For sure, I would change it. Beach volleyball progressed a lot during the years and professional coaching played a huge role in the growth of the playing level. We need to keep evolving as a sport and I believe that the interaction of the coach during the games will further improve the level and could make the matches even more interesting. Even in tennis, which is a much more traditional sport, they are making more and more steps to include the coach in some parts of the game. On the other hand, I am sure that I wouldn't like constant interaction like there is in volleyball nowadays, because it would kill the character of beach volleyball. My proposal would be that the coach can interact with the players only between the sets and during timeouts."
Because of that rule, beach volleyball coaches are hardly ever in the media spotlight and generally unknown to the wide public. Is this good or bad for the sport?
"I can't see any reason why this is good for our sport. In general, fans are interested in having access to more information about their favorite teams. Hearing the coach's perspective can give you extra insight or a different view on a game. As a fan of other sports, I definitely like to know more about the coaches and find it really interesting to watch or read interviews, post-game reports, etc. Anyway, coaches have a role in the team and are also part of every success and every failure. Why should we hide them?"