After getting some insights from several top-level volleyball coaches, today I introduce my second beach volleyball guest in the series. Aigars Birzulis is a Latvian specialist, who coached Tina Graudina & Anastasija Samoilova to the continental title at the 2022 CEV European Championship in Munich and Latvia's women's national team to bronze at the inaugural CEV BeachVolley Nations Cup 2022 in Vienna.
Aigars was born some 58 years ago when Latvia was still part of the Soviet Union. He played indoor volleyball in his youth years and even won a medal at the USSR Junior Championship.
He started working as a coach and sports methodologist in the mid-1980s and has since coached at various indoor volleyball clubs in Latvia. In 2005, Birzulis led the team of Incukalns/LU to the national championship title.
For many years he also head coached Latvia's junior and youth national teams and even steered them to an eighth place finish at the 1997 FIVB Volleyball Men's U21 World Championship. In a way, that job served as a stepping stone towards his career as a beach volleyball coach.
To keep his players in good shape, he had them practice beach volleyball during the summers. In 1996, when the inaugural CEV U20 Beach Volleyball European Championships were held in Jurmalа, two of Birzulis's men's duos made it to the podium – Austris Stalls & Armins Vensbergs with gold and Aldis Jaunzeikars & Klavs Zalkalns with bronze – and this is how his coaching career on the sand formally started.
More success was soon on the way. Between 2003 and 2011, Birzulis's boys' teams picked up another six continental medals at various age-category European Championships, including Janis Peda & Toms Smedins's U18 title in 2003 and Toms Smedins & Janis Smedins's U20 title in 2005.
Meanwhile in 2008, Aigars Birzulis graduated as a volleyball coach from the Latvian Academy of Sports Education. Before the Beijing 2008 Olympic Games, he worked with Latvian Olympians Martins Plavins & Aleksandrs Samoilovs for three months.
His first major international coaching success at the senior level, however, came with Martins Plavins & Janis Smedins's bronze at the 2010 European Championship in Berlin. They followed that up with a fourth place at the 2011 FIVB World Championship in Rome and, most importantly, with an Olympic bronze at London 2012. Birzulis also coached Martins Plavins & Haralds Regza to a historic gold at the Baku 2015 European Games.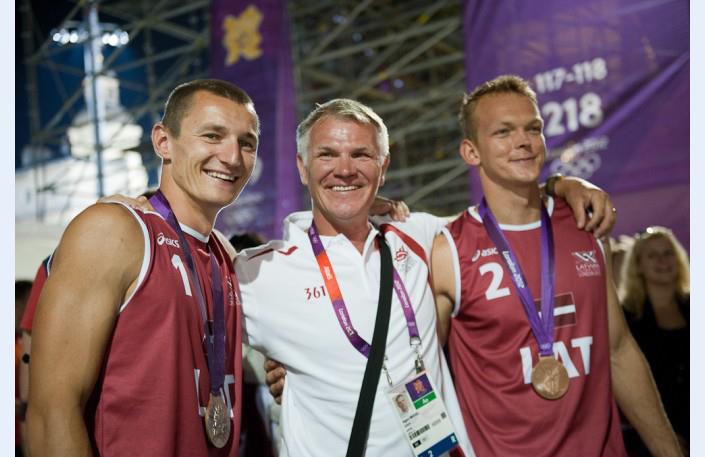 Birzulis celebrating the London 2012 Olympic bronze with Plavins & Smedins
From 2014 to 2016, Birzulis claimed three international medals coaching Latvian age-category women's teams – a 2014 U17 World Championship bronze with Tina Graudina & Linda Gramberga, a 2015 U18 European Championship title with Tina Graudina & Paula Neciporuka and a 2016 U22 European Championship title with Tina Graudina & Anastasija Kravcenoka.
Birzulis coached in Finland from 2017 to 2020. Since 2021 he has been involved with an FIVB development project coaching youth girls' teams in Lithuania.
In August 2022, he was asked by the Latvian federation to be in charge of the women's teams competing at the two major CEV events of the season. At the first-ever edition of the Nations Cup in Vienna, Birzulis steered the national team consisting of Anastasija Kravcenoka, Anete Namike, Tina Graudina and Varvara Brailko to the bronze medals. Then, under his guidance, Anastasija & Tina triumphed at EuroBeachVolley in Munich after winning all six of their matches and dropping a single set (in the final) along the way.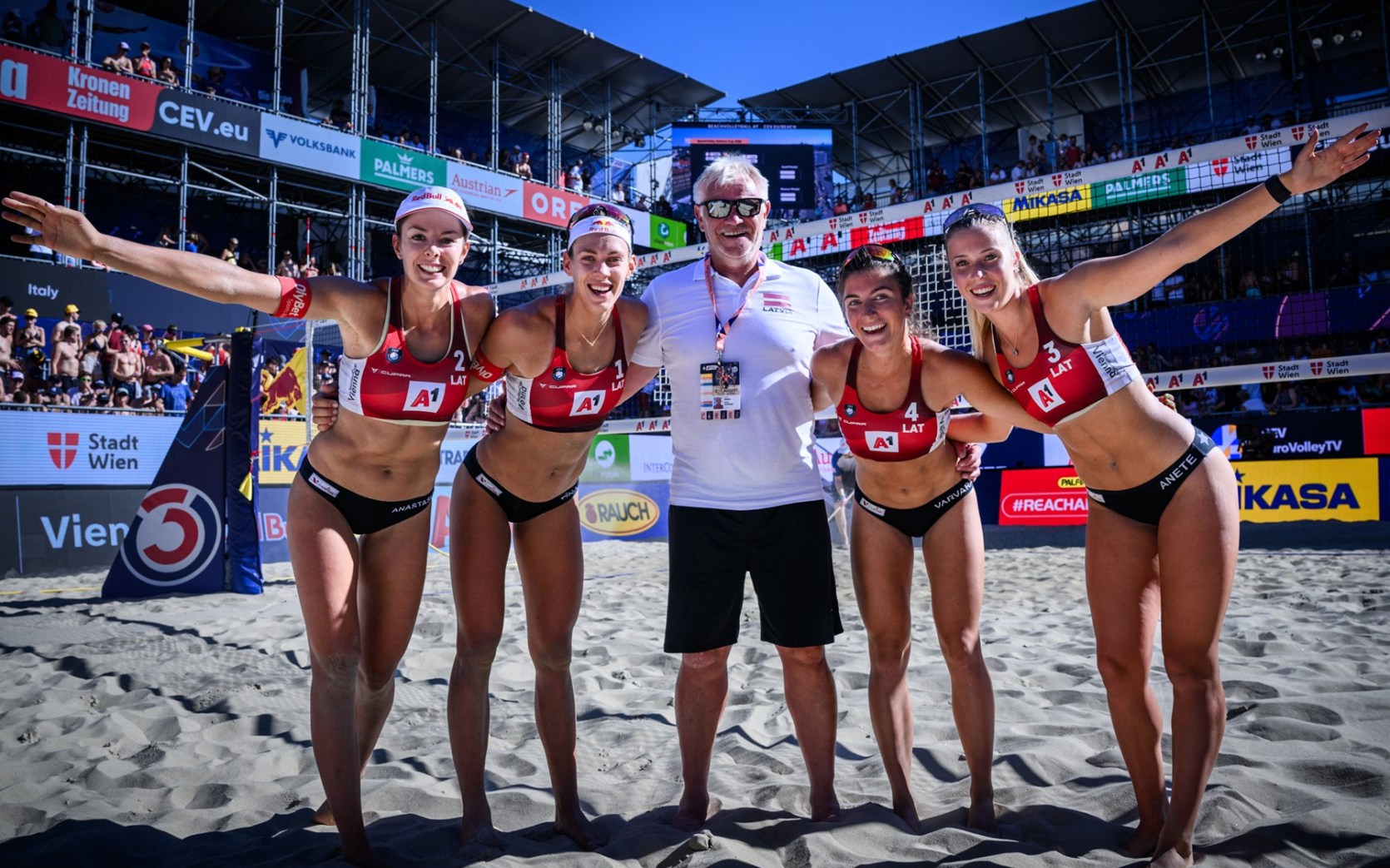 At the 2022 CEV Nations Cup with the Latvian women's national team
For his achievements as a coach, Aigars Birzulis was made a Cavalier of the Order of Three Stars, Latvia's highest state award for special merits.
Since July 2020, Aigars Birzulis has also been coaching at the sports center in the town of Marupe near Riga.
In his leisure time, the coach likes to go fishing and picking mushrooms and berries in nature.
"Cranberries are the same shape as volleyballs, so they always bring me a lot of good thoughts, because no matter where I am beach volleyball is in my head and heart."
Aigars Birzulis
Beach volleyball coach