The fifth episode of the series is the first one to feature a beach volleyball coach, Spiros Karachalios, the Greek specialist, who mentored his teams to three European Championship titles and numerous prestigious international podiums, led Poland's Bartosz Losiak & Piotr Kantor to the top of the FIVB World Ranking in 2018, and recently steered the Swiss women's national team to a historic trophy at the inaugural CEV BeachVolley Nations Cup. Here is the last part of the interview he gave for cev.eu.
Continued from Part 2
The CEV Nations Cup you recently won coaching the women's national team of Switzerland was something different. Please share your experience at that competition.
"It was a nice and interesting experience for me as we had the chance to compete in a different format. I have to say that I really liked this format for this kind of event. The CEV and the promoter in Vienna made some adjustments to the Continental Cup format and, in my opinion, the result was much more attractive. Big shout-out to the CEV and the organizers for including the coaches in the awarding ceremony, showing some recognition for our work! About coaching, I already participated in some events in the past (Brazilian tour, Continental Cup, junior tournaments), where the coach was allowed to be in the players' box and interact with them in a similar way as it was at the CEV Nations Cup. Even the FIVB tested it on the World Tour at the 2005 Athens Open.
"As a coach, I feel much better when I can also be part of the game and have the chance to help my team win the game. In addition, competing against fellow coaches live during the match is much more interesting than just watching the games of your team without having any chance to influence and have an impact on the result. I believe that, more or less, most of the coaches just feel helpless, when they watch their team play from the outside. Another benefit I could experience and see is that the learning process for the players is much faster, when the coach can interact with them in real time during the matches. In my opinion, practice is very important, but the real games offer us the examples and the opportunities for growth. When you can connect your trainings with the different game situations in real time, you are learning and growing much faster as an athlete."
There has been a trend of introducing more and more team competitions like the Nations Cup, the Continental Cup, the World Beach Games 4×4, national leagues, etc. Will this trend increase the importance of the beach volleyball coach role?
"To be honest, I don't believe that these kind of competitions mentioned above should be the main product of our sport in the future. I can see them more as complementary events, adding something interesting and perhaps some extra value to the whole package. In this sense, I also don't believe that, in the end, they can really increase the importance of the beach volleyball coach role. However, these events are great opportunities to introduce the role of the coach during the matches, which helps the media and the public to better understand the importance of the beach volleyball coach role."
Name something about the coaching profession in beach volleyball you think the general public knows little about.
"Always, the first impression of somebody hearing the word 'beach' brings in mind summer, warm weather, beautiful places, holidays… However, for us there is unbelievably too much travelling all year long, which automatically means too little time at home to spend with friends and family. The weather conditions can also be very extreme, much different from that first impression! I will never forget that it was snowing during some matches in Moscow in June 2017!"
What has been the key to your coaching success so far?
"Success is a result of multiple factors and sometimes it is difficult to determine what the key is. I would say that there are even different keys behind different success stories. However, I can describe what I feel was important for me. I believe that one of the most important things I try to do is just keep learning, keep developing, keep questioning everything and brainstorm. Always be willing to go a step further. I try to have a vision for every new team and then build a tailor-made plan for them with the way to get there. Of course, it is normal to have one philosophy, but you need to keep in mind that you need to make small or big adjustments according to the players and the team you are coaching. When I look at it now, I am happy that most of the time I could communicate and pass this vision to my athletes and my staff. For that, I had to find different ways, different ideas, different plans… After all, we have different athletes, different people, different teams… Finally, in my opinion, building a strong TEAM is fundamental for success. My short definition of this is 'a group of people with common goals, where every member acknowledges exactly his/her role in the team and is working daily with precision and maximum effort to increase his/her efficiency, in order to reach the common goals TOGETHER as a team'."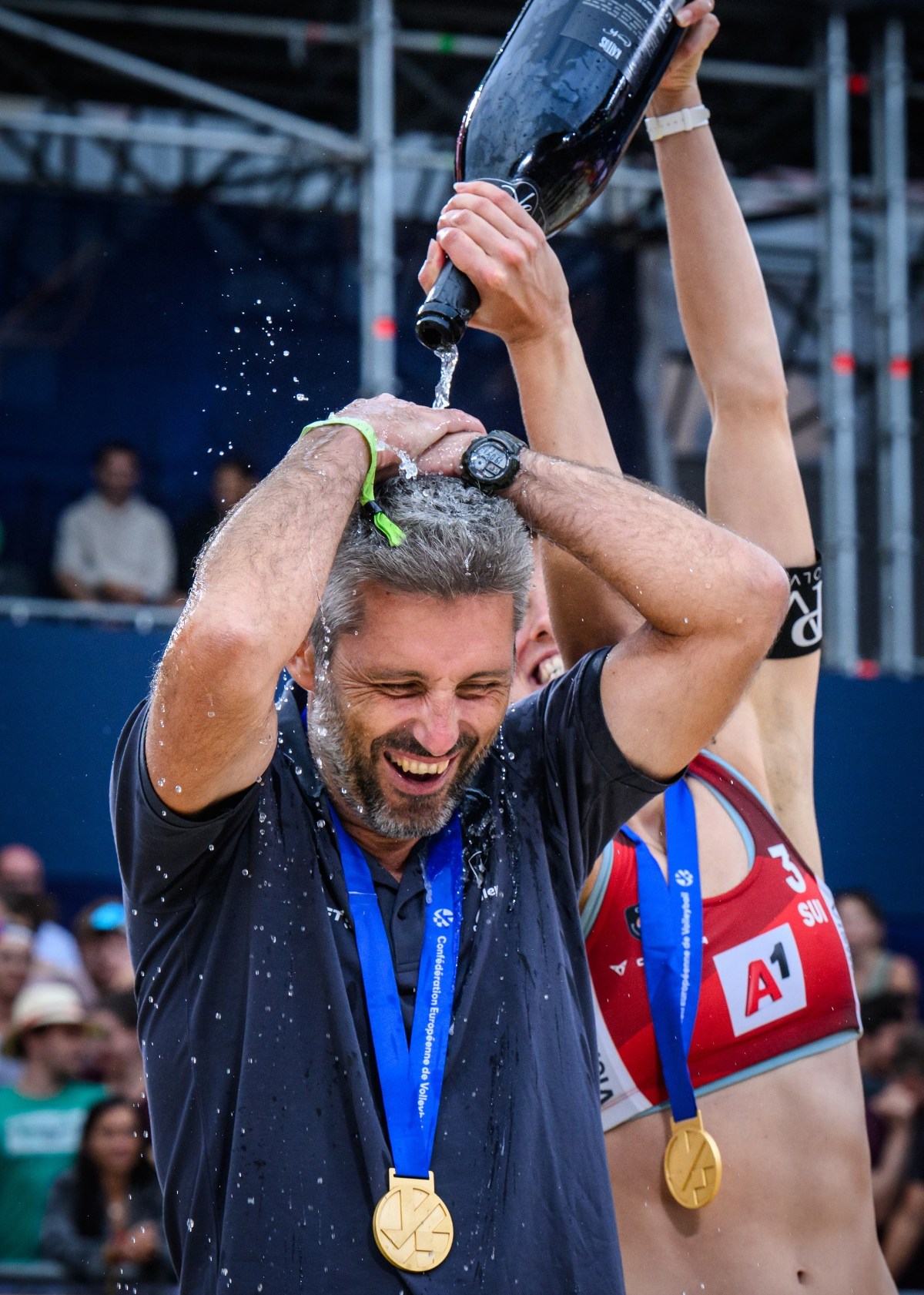 Some champagne for the coach too!
What is the main thing you try to teach your players?
"If I have to limit it to one or two things, I would say self-responsibility and solution-oriented mindset. Self-responsibility is the base for building a strong team. I always say that building a team starts from the moment the members have awareness of their self-responsibility. In addition, I believe that in beach volleyball it is very important to teach the players to think solution-wise. Beach volleyball is a sport of many different situations, which you need to be able to recognize without the coach during the game, and then make fast decisions to anticipate what is going on at the moment. Players need to orientate much more towards solutions. It will definitely help them in efficient fast decision-making, which will eventually lead to reacting successfully in real time, according to the specific situations in every game."
Is there a coach, from beach volleyball or another sport, you look up to and follow as a role model?
"I don't try to follow somebody as a role model, because I believe that you have to be authentic and build your own way. However, at the same time, I can tell you that I look up to so many coaches from beach volleyball and other sports as well. It is very interesting and beneficial for me to find out other perspectives and new ideas. There are so many great coaches out there, who share their stories and experiences, and you can always catch something new, which in some point perhaps will help you in your unique way. I prefer not to mention specific names, because my list is really endless."
How do you rest and recover outside your job?
"That's a tough one! There are many moments when your vision keeps your mind active even when you have a day off or some holidays. Through the years and different experiences, I realize more and more the importance of disconnecting from volleyball for some periods. I can't say that I am always successful at that, but my family and especially my young son help a lot in this direction! I really enjoy spending time with them, making short trips or just doing various activities. I also enjoy riding my motorcycle around Athens. It relaxes me and brings some peace to my mind."